What is Ayurveda?
Ayurveda, Yoga's sister science of natural health and longevity, is considered to be "The Mother of all Healing systems". Its ancient principles have been practiced for thousands of years and remain as relevant as ever, bringing us into harmony with nature's rhythms and our inner wisdom.
The foundation of Ayurveda is the understanding of three biological energies, or doshas, found throughout your body—Vata, Pitta, and Kapha—and they are derived from the five elements: space, air, fire, water, and earth. Balance and overall health is enhanced by knowing your dosha and then creating a lifestyle that supports it.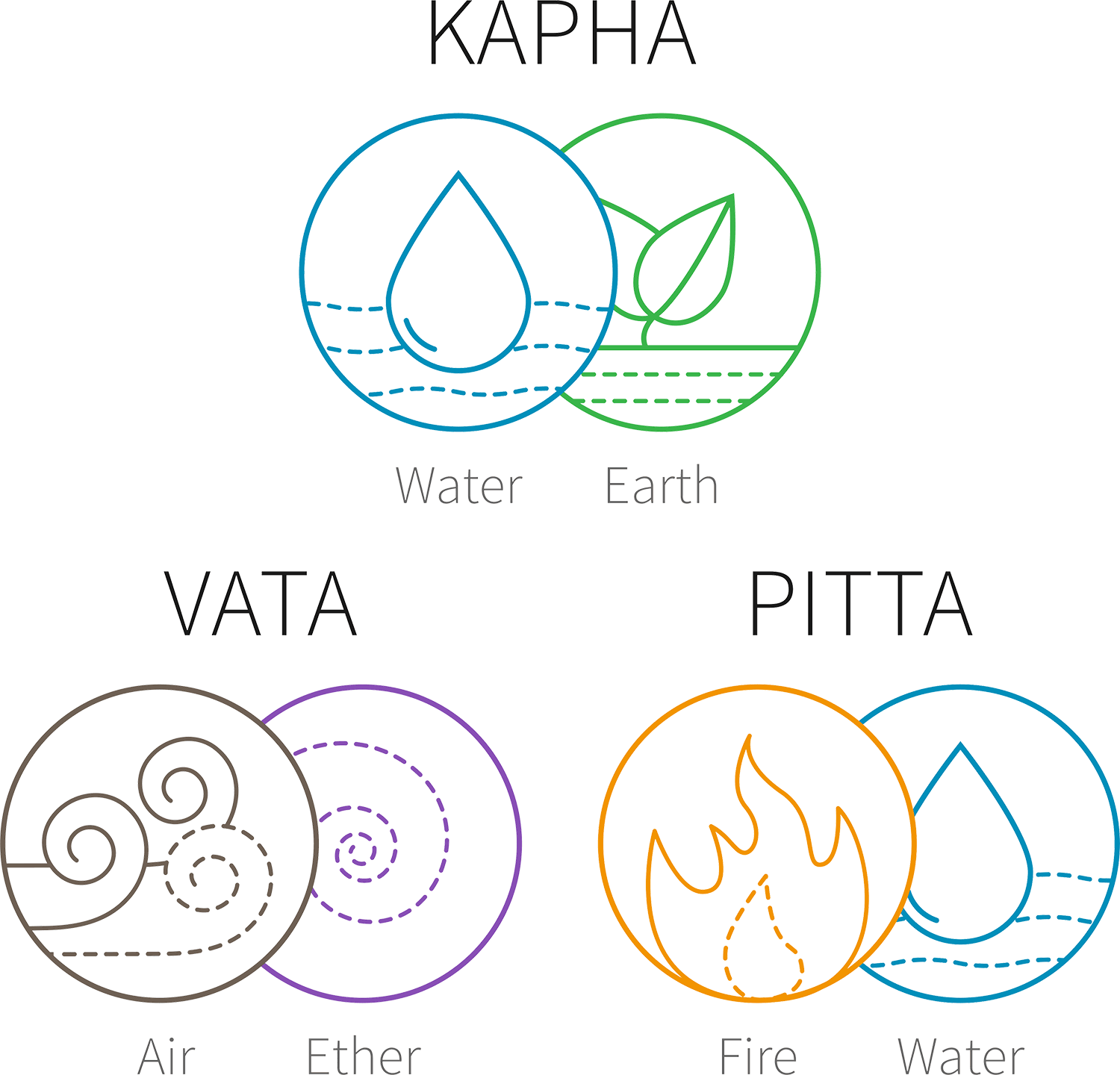 Although everyone possesses all three doshas, you have a dominant one that's the strongest force in your mind and body. Lifestyle, diet, age, nature's seasons and our environment all come into play with keeping our dosha balanced.
Discover and experience Ayurveda's natural transformational effects in all aspects of your life.
Here's how an Ayurvedic Lifestyle Consultation can help you:
Develop a deeper understanding of the connection between mind, body, and spirit
Learn about your unique elemental constitutional and how to restore it to balance
Learn to use simple yet profound cleansing and rejuvenation practices
Discover the profound effects of having an Ayurvedic daily routine
Learn about the daily and seasonal Ayurvedic clock to better align with nature's rhythms
Develop a personalized practice of yoga, meditation, and pranayama to help become and remain balanced
Learn about the best diet to improve digestion and support your constitution
Build overall resilience and immunity
Improve energy levels and quality of sleep
Feel centered and grounded in life
Ayurveda is quite intuitive and simple to incorporate into your daily life. One of its main principles to teach us to listen to ourselves and what our bodies are saying. Ayurveda believes that vibrant health is our natural state of being, and like Nature, we naturally seek that which brings us into harmony.
Within each of us there is an innate elemental intelligence that is always seeking to bring us into wholeness, well-being, and balance. Like Yoga, Ayurveda is a pathway to conscious living.
Ayurvedic Lifestyle Consultations
Consultation will include a comprehensive doshic assessment as well as discussion of your goals, and an overview of the relevant Ayurvedic principles. (2.5 hrs).
Joy then designs a customized Dincharya, (Ayurvedic daily routine) that will outline specific self care practices, diet and meal recommendations, yoga practices, pranayama (breath work), meditation practices, and other supportive tools. Typically this will take a week to prepare.
A second meeting is scheduled to carefully review the plan (1.5 hrs). You will be given detailed instructions on the practices and any additional resources needed. A follow up call is done in about two weeks (1hr). You are asked to keep a daily journal to track progress. Joy is available to you for questions, encouragement and support throughout.
Cost of the full consultation is $288, which includes seasonal plan modifications (ritucharya) and discounts to Soulfire Yoga with Joy workshops. Online consultions available. Installment plans available.
Sign up for email updates!
Sign up for my email updates and get free yoga and ayurveda tips to keep you inspired, healthy and balanced!